Twilight is main character in the Guardians of Ga'Hoole book series by Kathryn Lasky. Anthony LaPaglia voiced Twilight in the film.
Guardians of Ga'Hoole (book series)
Legend of the Guardians: The Owls of Ga'Hoole
Through unknown circumstances, Twilight meets and befriends a joke-cracking Burrowing Owl named Digger and they became best friends, but often annoyed each other with iether Digger's jokes or Twilight's music while playing his "lute".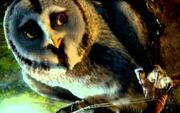 Series

e